Mark Johnson, Managing Director XYZ Co
"Fantastic service, always on time and curteous. Willing to help with any luggage. Long time customer"

Fiona Smith, Student
"Use them everyday to go college. Have never been late once!"
EAST STAFFORDSHIRE
TAXI AWARDS 2009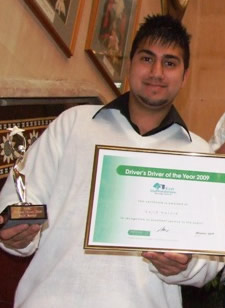 Drivers' Driver of the Year 2009
Our very own Sajid Rashid won the best Drivers' Driver of the Year Award for 2009.

The winners of all three categories were presented with a commemorative award & certificate by Deputy Leader for Environment and Leisure, Cllr Bernard Peters and Interim Head of Environment Services, Paul Farrer.